In his 15th year as McQuaid's varsity coach, Parks' teams have won 7 sectional and 3 state titles
The Knights (18-1) play in Saturday's Division I state semifinals
"Just win, baby!" was the slogan popularized by eccentric former Oakland Raiders coach and executive, Al Davis. dr Christopher Parks would respectfully disagree with it. He'll tell you there's a lot more to winning.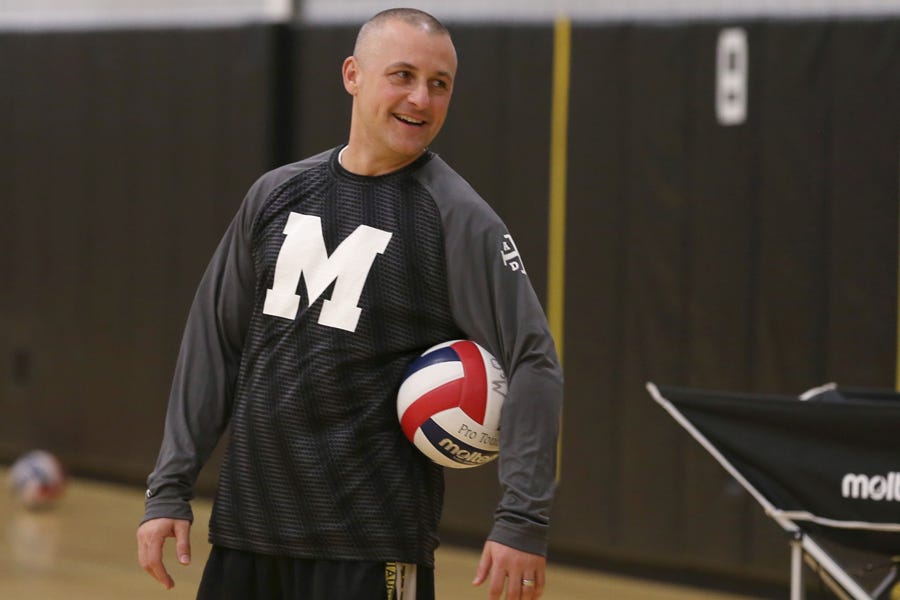 Obviously, the head coach of the McQuaid volleyball program wants to win. Heck, who plays sports and tries to lose, right?
"At the end of the day, OK – so they can play volleyball, great," Parks says of his players. "But they need to be good fathers. They need to be good husbands, brothers, siblings."
Series: Coaches Who Care
They need to be good people and that's what Parks teaches. "Volleyball is just kind of the vehicle," he uses to do that, Parks says. His goal: Develop elite young men, not just elite volleyball players. The 43-year-old is the next winner of the Coaches Who Care award, a joint initiative between the Democrat and Chronicle and Compeer Rochester to recognize top area high school coaches.
"He really stresses the importance of character and personal attitude outside of the court. It's not really what you do on the court, it's how you act in the hallways, how you act in the community," says McQuaid senior outside hitter, Seamus Darby . "I've learned more off the court from coach than I have on the court. He's taught me how to be a leader, a good person and how to live everyday life rather than just play volleyball."
The Knights are pretty darned good at volleyball, too.
They've won seven Section V titles in his 15 seasons. This fall, McQuaid (18-1) has reached the Division I state tournament semifinals for the fifth time in six years. It faces Circero-North Syracuse, Shenendehowa and Sachem North in pool play Saturday at Suffolk County Community College. The title match is at 4:30 pm Saturday. Parks' 2010, 2011 and 2012 teams won it all; last year's squad was runner-up to Sachem North.
How does Parks get the best out of his guys?
"They don't care about what you know until they know you care," says the 1995 St. John Fisher College graduate who is McQuaid's Dean of Students and teaches eighth-grade English. "That would be the simplest way I could put it."
Parks gets to know his players. He talks to them. Finds out what makes them tick.
"He cares about them academically, socially, spiritually," says assistant coach Mark Thomey, McQuaid's modified coach who has been coaching with Parks since 1993. "He cares about everything that they do and he truly does love them like his own sons."
Parks, who lives in Farmington, is the father of three sons, Talin (age 6), Ryder (5) and Rory (1), and a daughter, Hope (2). He calls his wife, Jenn, "an All-American wife," for more than one reason. Not only was the former Penfield track and field standout a five-time All-American at SUNY Cortland, but without her "I could do none of this," Parks says about coaching.
He's passionate about it.
"He's very emotional," says McQuaid junior libero Spencer Wickens, a team captain with Darby and seniors Flynn Delany and Christopher Mahar. "Our motto is 'One heart.' We're all working together to accomplish the same goal."
Parks doesn't play favorites, either.
"With every move, either on the volleyball court or off, Dr. Parks promotes the importance of respecting, loving and being kind to fellow teammates, regardless of talent, ability, grade, etc.," Darby's parents, Kelly and Tom, wrote in an e-mail nominating Parks for this award. "He fosters a camaraderie among his players that is second to none."
And if Parks sees anyone stepping out of line, he's quick to correct poor sportsmanship within his team or to opponents, Wickens says.
"Treating people right, treating people with respect," Wickens says about Parks' emphasis. "If you're out of line, he has 100 percent the right to get you back in line."
It's OK to admit you're human, too, says Parks, whose career record is 301-41. If he makes a mistake, Parks says he'll tell his team: "Hey, that one's on coach."
At McQuaid, it's not a team room. It's a "family" room. "Families disagree. Families argue. Families fight," Parks says. "Volleyball's not the most important thing we do and it never will be … (it's) the thing that brings us together so we can be who we are, do what we do and have fun doing something that they're all real good at. "
The Knights do plenty of community service, too. They've visited a nursing home, volunteered at the Advent House in Perinton, helped clean Hope Hall in Rochester and Camp Stella Maris in Livonia and annually work the finish line at the McQuaid Invitational cross country race.
Parks says he learned how to treat people from his parents, Patricia and Vincent, and a lot about handling a team from two of his former coaches, McQuaid legends Ed Waller (volleyball) and Bob Bradley (cross country/track).
Says Parks: "You can't really ask for better mentors than those guys."
The Knights say the same about Parks.
"He's one of the best mentors," Wickens says, "probably any of us has ever had."
About this award
The Coaches Who Care Award recognizes individuals who've shown a commitment to players that goes beyond only developing a winning team. Eligible coaches must work at local high schools at the modified, junior-varsity or varsity level. Email nominations to JDIVERON@Gannett.com. Please cite specific examples in your nomination.