The fascinating Immersive Frida Kahlo is the newest immersive art installation on view at Lighthouse ArtSpace at Germania Place. The exhibit is presented by Lighthouse Immersive, a leading producer of groundbreaking experiential art exhibits, and Maestro Immersive Art. The team also produced the blockbuster Immersive Van Gogh, which is currently being shown in rotation with Immersive Frida Kahlo. Immersive Van Gogh recently reached a milestone of five million tickets sold in venues across North America.
The immersive Frida Kahlo experience
Take a journey through the vibrant life and work of Frida Kahlo in an unforgettable 360-degree experience that will make you feel as though you've stepped into the Mexican artist's world. A brilliant and bold painter, Kahlo's artwork is globally recognized for its raw emotion, eye-popping color, and unflinching intimacy. Her style has been described as magic realism, blending authentic depictions of her life with fantastical elements reflecting her inner thoughts and struggles.
Some of Kahlo's most iconic pieces are brought to life by Italy's Massimiliano Siccardi, a world-renowned master of digital art. The large-scale projections are shown on Lighthouse Immersive's massive architectural canvas, paired with a soaring score by composer Luca Longobardi. Chicago GoPride notes, "These massive projections certainly give her legacy the honor it deserves."
Among the works featured in Immersive Frida Kahlo are The Two Fridas, The Wounded Deer, and Diego and I. The pieces are intermingled with photographs of Kahlo and influential people from her life (including her artist husband, Diego Rivera), drawings, and iconography . Critics give the exhibit raves, with Picture This Post calling it "Mesmerizing!" and Time Out Chicago proclaiming, "Immersive Frida Kahlo is an impressive experience."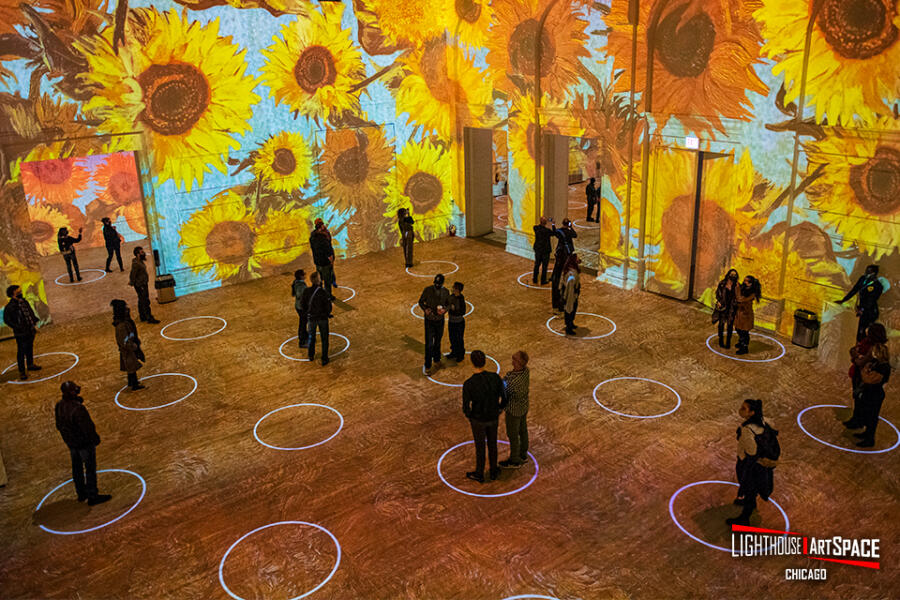 Immersive Frida Kahlo special events
There are many fun ways to enhance your Immersive Frida Kahlo experience. plan a date night that includes your own private Juliet balcony for viewing the exhibit, chocolate truffles, champagne, and a beautiful floral bouquet. The upgraded Date Night package includes a one-night stay at The Drake or 21c Museum Hotel Chicago.
Visitors of any fitness level can enroll in Lifeway Kefir Immersive Yoga classes. The 35-minute classes take place within the Immersive Frida Kahlo installation, followed by an additional 25 minutes for attendees to wander around and enjoy the exhibit.
Create your own masterpiece while sipping wine during Paint Like Frida. No painting experience is required, and an art instructor is on hand to offer helpful tips. Tickets can be purchased for the art class only, or the art class combined with a visit to the Immersive Frida Kahlo exhibit.
See Immersive Van Gogh
Extended by popular demand, Immersive Van Gogh is also on at Lighthouse ArtSpace. The exhibit offers a look into the mind of one of the world's legendary artists — Vincent van Gogh. Visitors are transported into van Gogh's most famous masterpieces, including The Starry Night, Sunflowers, and The Bedroom. Immersive Van Gogh also offers date night packages, Gogh with Lifeway Kefir Immersive Yogaand Paint Like Van Gogh classes.
tickets
Purchase tickets for Immersive Frida Kahlo other Immersive Van Gogh through July 2022. Note that all visitors must wear masks.