Grilled cheese from Gayle V's Best Ever Grilled Cheese. Photo: Monica Eng/Axios
Dreary weather this time of year has us hankering for a warm, crispy grilled cheese sandwich with soup.
So we're seeking comfort in a food fight over the best grilled cheese in town!
Monica's pick: Ever since I tried this buttery, toasty treat from Gayle V's Best Ever Grilled Cheese stand at Green City Market, I've been in love.
Context: The classic uses local sourdough from Bennison's Bakery, Prairie Pure's butterkäse cheese and butter from Nordic Creamery ($7.50).
Once sold only at farmers markets, they're now available for breakfast or lunch at Gayle's in the basement of Block 37. Yum.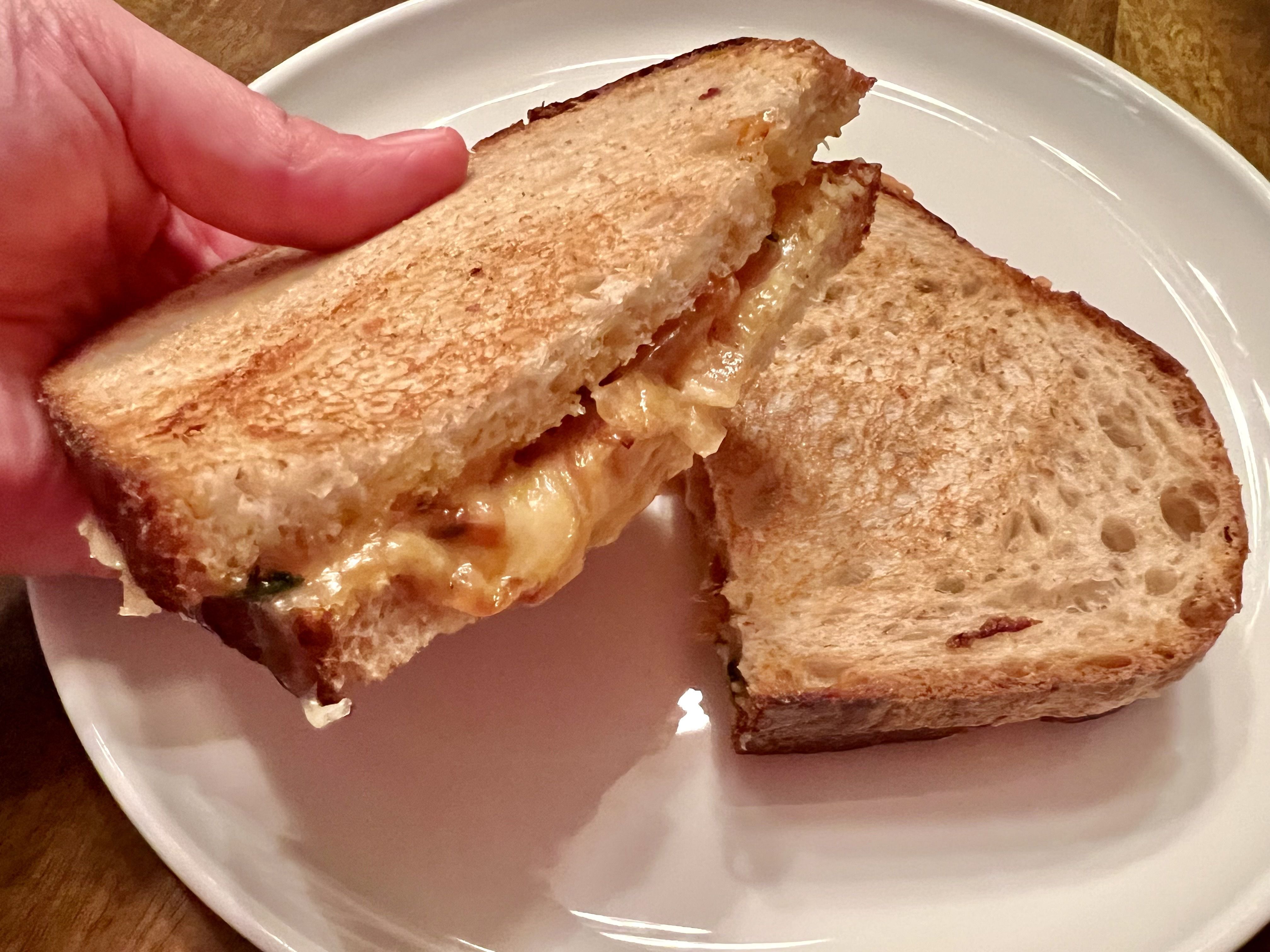 Grilled cheese from Fat Shallot. Photo: Justin Kaufmann/Axios
Justin's pick: I'm a sucker for a grilled cheese at home. (The secret is mayonnaise instead of butter.) But if I do have to go out, I'll order the staple at Fat Shallot.
Context: The food truck turned restaurant has locations in Lincoln Park and at Revival Food Hall downtown.
The sandwich features sourdough bread, Muenster cheese with sautéed spinach and caramelized onions ($8.95).
Get a side of tomato bisque soup for $5.
as usual, our lactose-intolerant readers have many cheesy opinions of their own:
Leslie M.: "The incredibly rich 5 cheese masterpiece at Lady Gregory's in Andersonville. Gruyere, white Cheddar, mozzarella and brie with fried shallots and candied bacon on parmesan-crusted sourdough."
Monica H.: "Chef Debbie's grilled cheese at the Peckish Pig paired with an in-house brew will cure what ails you, especially on a dreary winter afternoon."
Rebecca H.: "Here in McHenry County in Cary and Crystal Lake — Breaking Bread has a Balsamic Grilled Cheese with sweet peppers and balsamic dressing baked right into the sandwich. Yum!"
Mary G: "The grilled cheese and tomato soup at Four Moon Tavern in Roscoe Village is the perfect combo."
McKinley S.: "Grilled cheese rec: Carver 47 in Kenwood. Don't skimp on the red pepper jelly they offer with it — a delightful combo of spicy and sweet."
Diane J: "Hands down it's the CB&J at Hopleaf on North Clark Street: Sourdough bread, house-made cashew butter, and raclette cheese, pan-fried, with a mound of their fabulous fries (served with aioli for dipping)."
"And you can accompany it with a beer from their extensive draft beer menu or a glass (or carafe) of wine."
Paul F.: "The grilled cheese (and side of spicy tomato soup that accompanies it) from Spoke & Bird in the South Loop checks all the boxes."
Gary D.: "Try the Waitress Special at Chuck Wagon in downtown Wilmette. It rules!"
Anne R: "The best grilled cheese is at Everdine's on Jefferson Avenue in Naperville. Their entire menu consists of different types of grilled cheese!!"
Rhonda F.: "Best grilled cheese: Ten Mile House in Evanston and Lady Gregory in Chicago."