The Chicago Food Stop On The Mag Mile Gives A High-Profile Showcase To Products From Across The City
MAGNIFICENT MILE — A new pop-up on Michigan Avenue features cookies, hot sauce, pasta and other food from some of Chicago's most famous chefs and restaurants.
The Chicago Food Stop, on the first floor of 875 N. Michigan Ave., opened in December with vendors who sell food from across the city. It's part of a pop-up series spearheaded by World Business Chicago with grant funding from the city's COVID-19 recovery program.
World Business Chicago has been using part of its three-year, $10.5 million grant to open pop-ups in vacant stores along the Magnificent Mile. The organization covers the cost for the build-out, rent and utilities, while offering a prime location to a selected retailer through an RFP process.
The first pop-up, Colores Mexicanos, opened in 2021 and has managed to stay open on Michigan Avenue after initial financial help from World Business Chicago. Two other pop-ups that were temporarily open focused on selling goods form Argentina and Nordic countries.
The newest pop-up, in what used to be a Best Buy in the former John Hancock Building, is completely focused on Chicago's food industry. Vendors — including Here Here Market, Greater Chatham Initiative, Choose Chicago and Chicago High School for Agricultural Sciences — sell products from local chefs and businesses.
Credit: Melody Mercado/Block Club Chicago The Chicago Food Stop also features a photo exhibition from the Chicago History Museum showingcasing local brands and foods created locally.
Customers can buy goods from Brown Sugar Bakery, Imani's Originals, Fat Miilk, Kikwetu Coffee, Carolyn's Krisps and more. The vendors will rotate products, and there will be demonstrations and other events, according to World Business Chicago's website.
One of the vendors, Here Here Market, an online food boutique, started 16 months ago. Co-founder Disha Gulati said the business evolved out of the pandemic to help local restaurants and chefs sell specialized products.
The company is working with well-known chefs from restaurants like Mott Street, Monteverde, Kimski and Bang Bang Pie & Biscuits. It has 160 creators, almost all from the Chicago area, with the creators selling hot sauce, pastas, cookies and more.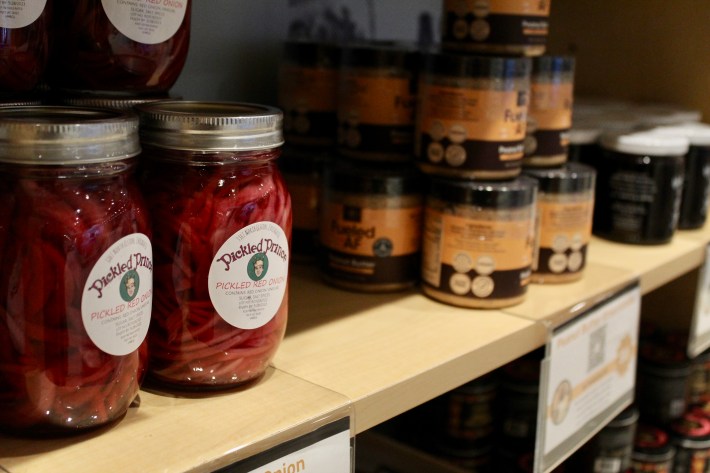 Credit: Melody Mercado/Block Club Chicago Here Here Market, a local vendor at the pop-up, is showcasing 40 different creators and small businesses. All local to Chicago.
The opportunity to give clients an in-person shopping experience on Michigan Avenue has been a huge blessing, Gulati said. Here Here Market's space inside the Chicago Food Stop is able to features 40 creators.
"It's not something we could have ever afforded … to have this kind of brick-and-mortar presence in the heart of the city on Michigan Avenue. So this opportunity for us, it was a no-brainer," Gulati said.
It's also an opportunity for people to see products in person, Gulati said. She plans to give out samples to visitors.
"We know what a difference that can make in the discovery and kind of journey of a product," Gulati said.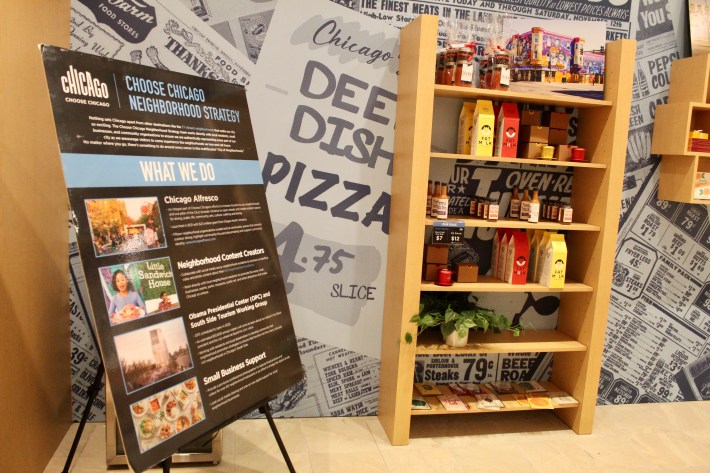 Credit: Melody Mercado/Block Club Chicago Choose Chicago, a vendor participating in the pop-up, has products organized by which neighborhood they originated in.
Besides the vendors, Chicago Food Stop features a photo exhibition from the Chicago History Museum, a life-size CTA train car replica for photos, a Farmer's Fridge vending machine, and a small event space for demonstrations.
World Business Chicago also covers staffing at the pop-up. Six youth who are 18-25 work at the pop-up through a paid partnership.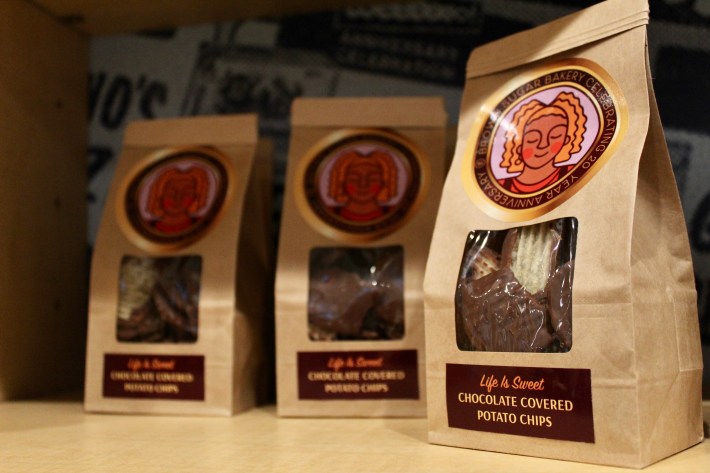 Credit: Melody Mercado/Block Club Chicago Brown Sugar Bakery is southern-style bakeshop located on the city's South Side. Visitors at the Chicago Food Stop can shop some of the bakery's products.
The Chicago Food Stop opened Dec. 14 and had great foot traffic, said Natalia Kapani director for World Business Chicago. The winter storm in late December forced the pop-up to close temporarily.
Now that the pop-up is open again, Kapani hopes traffic will pick up again as programs and events ramp up.
"We're really hoping that this can serve as a model for the rest of the country as they're thinking about creative ways to take advantage of these spaces and also about the future of retail," Kapani said.
Chicago Food Stop is slated to run through March, but Kapani is hopeful it will be extended into the summer.
Listen to "It's All Good: A Block Club Chicago Podcast":