LOGAN SQUARE — A plan to open a cannabis dispensary in a Logan Square laundromat won key city approval last week over the objections of dozens of neighbors.
The city's Zoning Board of Appeals on Friday granted World of Weed Inc. a special-use permit to open a dispensary at 3115 W. Armitage Ave., the current home of J&M Laundromat.
Word of Weed Inc. is a West Coast company run by Alden Linn and Gregory Elliott. The company runs a dispensary in Tacoma, Washington, and has been trying to expand to California and Illinois.
World of Weed officials pitched neighbors on the Logan Square project in September, holding two community meetings.
RELATED: World Of Weed Wants To Open Dispensary In Logan Square Laundromat
The company aims to take over half of the 6,200-square-foot laundromat, according to World of Weed's attorney Andrew Scott. The laundromat's owner is looking to wind down his business and has leased the space to World of Weed contingent on zoning approval, Scott said.
Credit: Google MapsJ&M Laundromat at 3115 W. Armitage Ave.
Once open, the recreational pot shop will sell a range of cannabis products, including flower, edibles, topicals and oils. The business will have a robust security system required of dispensaries, including cameras and a guard during business hours, company officials said.
The company also plans to make improvements to the grounds, including adding trees and a striped crosswalk, Scott said.
"Bottom line is this is going to be a substantial investment — half a million to $700,000. … It's really going to improve the appearance of the area," Scott said.
The project was drawing an even amount of community support and opposition until recently, when the neighbors dropped off a petition signed by 60 nearby residents, said Nicholas Zettel, chief of staff for Ald. Daniel La Spata (1st), whose ward includes the site.
Two neighbors who strongly oppose the project dominated the two-hour-long Zoning Board of Appeals hearing on Friday.
Longtime neighbor Douglas Raul Williams said he worked with police for years to bring down crime in the area and he's worried the dispensary will reverse all of the progress that's been made over the past two decades.
"I've owned a building for 20 years. I've had my windows broken many times because we were trying to get the gangs and drugs out of the area. That's not where we're at right now. Armitage Avenue is a very quiet corridor," Williams said.
Williams said the restaurants in the area have been "trying to get over the pandemic and catch up" and the dispensary does nothing to help them.
"This is not going to bring more revenue to them, especially when cannabis is so expensive," he said.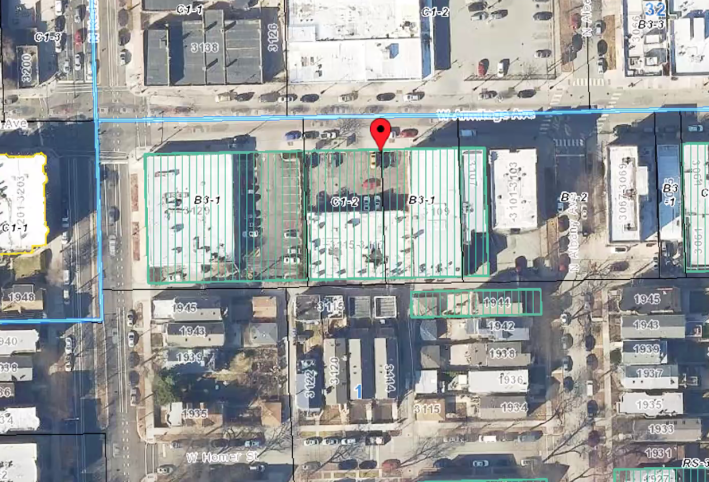 Credit: ZBAAn aerial shot of the proposed dispensary at 3115 W. Armitage Ave.
Lupe Marino, a neighbor for more than 30 years, went door-to-door collecting signatures in opposition of the project. Marino said she's not against legal cannabis, but she is against the "building being here" and the "opportunity we'll very well lose."
"If the realtors who represent the building were maybe doing a better job, they would be trying to cultivate people who maybe have things that we don't have and desperately need," Marino said.
"We're a bit of a food desert, for one thing, but we're going to have cannabis instead. There's a humor in that; if you're a child of the '60s and '70s like I am, the one thing that cannabis does is give you the munchies, but here you're not going to have anywhere to go eat because going to eat at Giant is extremely expensive, and I'm sure they don't want high people rolling in there," she added, referring to the high-end restaurant at 3209 W. Armitage Ave.
World of Weed would add another "vice business" to the corner of Kedzie and Armitage avenues, which is already home to a smoke shop and a pawn shop, Marino and Williams said.
The two neighbors also argued the pot shop would lead to an increase in traffic congestion and parking issues that could negatively impact families going to the Women, Infants and Children Center across the street.
Neither concerns shared during the meeting nor those expressed in the petition were enough to derail the project. The city's Zoning Board of Appeals gave the dispensary a thumbs up after Scott, the company's attorney, provided a point-by-point rebuttal of the neighbors' testimony.
On traffic and parking, Scott said: "We've got 12 parking spaces, there's on-street parking. Frankly, the turnover of customers at a dispensary, 12 is more than enough. The site will be well served.
"Mr. Williams mentioned the movement [of drivers], the danger that's going to create. Truth be told, that's a condition whether or not we go there, whether or not the laundromat stays there, or some other use comes in."
Nilda Esparza, executive director of the Logan Square Chamber of Commerce, said while she's disappointed World of Weed didn't reach out to the chamber ahead of time, the chamber's board stands in support of the project.
World of Weed has secured a provisional state license to open the dispensary, Zettel said.
Listen to "It's All Good: A Block Club Chicago Podcast":