Arlington Heights Hersey began the season ranked No. 1 in The Associated Press Class 4A girls basketball state poll. Alton was both unranked and unmentioned.
The Huskies and Redbirds figure to cross paths in the polls this week after they crossed paths on the court Saturday.
Alton's seven-point halftime lead grew to double digits in the fourth quarter and the Redbirds beat Hersey 63-50 in the fifth of seven games at the Grow The Game Shootout at North Central College in Naperville. Grow The Game events feature teams coached by women in games officiated by women.
Alton, ranked no. 6 in last week's Class 4A state poll, improves to 17-0 while extending its school-record winning streak to 17. Hersey, ranked No. 3 in 4A, drops to 16-4.
Sophomore Jarius Powers was named Player of the Game for the Redbirds, who led 31-24 at the half and 47-37 after three quarters. Alton gets back in Southwestern Conference play with games Tuesday at Collinsville and Thursday at home vs. Edwardsville before opening the Highland Tournament as the No. 1 seed on Saturday morning against Triad.
CM's Avari Combes, shown putting up a shot between Highland defenders in a game last month at Highland, scored 12 points in the Eagles' shootout win over Freeburg on Saturday in Breese.
Greg Shashack / The Telegraph
Civic Memorial 51, Freeburg 47 – With no soft spots in the current stretch of the schedule, the Eagles went out and posted a hard-earned victory over the Midgets at the Breese Central PAWS Shootout to end their longest losing streak in 23 years. CM, which travels to Teutopolis on Monday, stops a six-game slide to improve to 9-10. Freiburg is 11-8.
The Midgets led 15-11 after one quarter before the Eagles came back to lead 28-24 at halftime. The teams were tied to start the fourth quarter, with CM pulling out the victory. Five different Eagles made 3-pointers, including Avari Combes, who scored a team-high 12 points. Aubree Wallace scored nine points, Olivia Durbin had eight points and Meredith Brueckner chipped in seven points for CM.
55 St. Joseph's Academy, 52 Edwardsville – The Tigers were up 29-25 at halftime, but the Angels used a 15-8 third quarter to take a lead they would not give up in St. Louis. St Joe's is 5-4. Edwardsville had a four-game win streak snapped and falls to 7-9. Kayla Jansen had 16 points and 13 rebounds, with Piper Mooney scoring 12 points and Zoe Stewart adding 10 points for the Angels.
Hillsboro 52, Southwest 16 – The surging Hiltoppers overpowered the Piasa Birds in a South Central Conference game at Hillsboro. The Toppers have won 13 of 14 games after a 1-5 start to improve to 14-6. Southwestern has lost 12 in a row and falls to 1-13.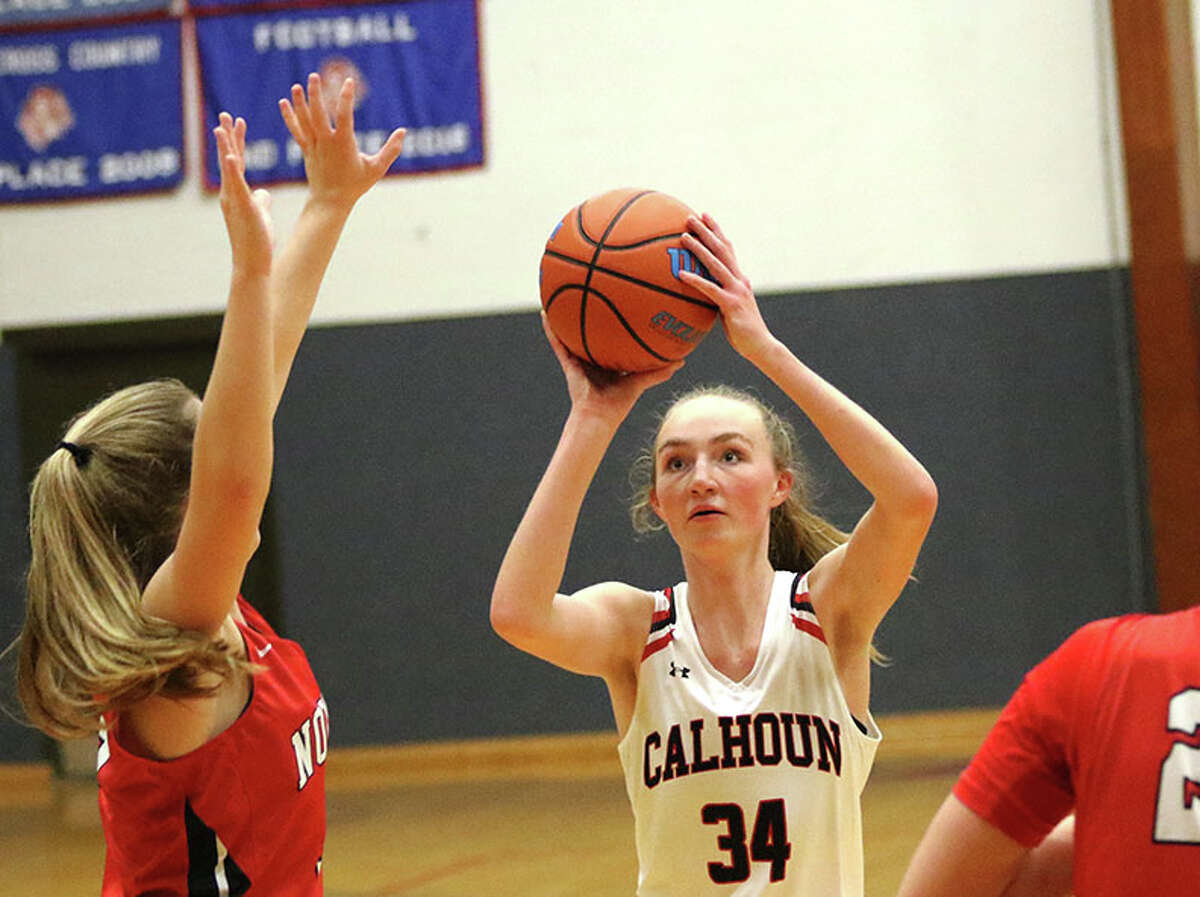 Calhoun's Kate Zipprich (34) shoots over a Nokomis defender in last month's Carlinville Holiday Tournament. The Warriors were back in tourney play Saturday, with Zipprich scoring 10 points in a win at the North Greene Spartans Classic.
Greg Shashack / The Telegraph
Calhoun 52, Concord Triopia 12 – The top-seeded Warriors rolled up leads of 20-3 after one quarter and 31-5 and halftime and got a running clock in the fourth quarter against the Trojans in the North Greene Tournament at White Hall.
Calhoun, which plays Greenfield in another pool game on Monday, improves to 14-3. The Warriors got points from 10 girls, with Kate Zipprich and Audrey Gilman both scoring 10 points, Jaelyn Hill scoring nine and Lila Simon scoring seven.
West Central 43, Greenfield 33 – The Cougars broke a 15-15 halftime tie with a 9-2 third quarter and beat the Tigers on the opening day of the North Greene Tourney at White Hall. West Central, which defeated the Tigers 50-46 at home on Dec. 8, moves to 10-7.
Jenna Dickerman scored eight points to lead the 10-7 Tigers, who got seven points from Kylie Kinser and six points from Faith Rynders. West Central was led by 13 points from both Bryleigh Fox and Gabby Sievers.
Pittsfield 55, North Greene 10 – The Saukees were up 21-0 after one quarter and beat the host Spartans in the North Greene Tourney at White Hall. Pittsfield is 11-7. North Greene is 0-18.
Bella Bushnell and Nila Beatty had four points apiece to lead the Spartans, who trailed 34-4 at the half. Madison Frieden and Ellie Ten Eyck both scored 11 points for Pittsfield.