Hinsdale Central holds off Lyons in showdown of West Suburban Silver leaders – Shaw Local
HINSDALE – Senior Patrick Graham and his Hinsdale Central boys basketball teammates always consider Lyons Township a huge game.
When the Red Devils faced their rivals for the first time this season Friday, they had the ultimate scenario – a huge home crowd and sea of ​​students in white T-shirts, both teams ranked among the Associated Press Class 4A top 15 and the West Suburban Conference Silver outright lead at stake.
"This is definitely the biggest crowd we've played in for sure," Graham said. "Last year was definitely a big crowd but this year was really cool because we're two ranked teams. We definitely fed off of it."
Hinsdale Central maintained its poise to hold off numerous LT comebacks and achieve 49-41 victory – its ninth straight – in front of an attendance of 2,975 paid.
Ben Oosterbaan led the all-senior starting lineup for the Red Devils (18-3, 6-1 in Silver) with 17 points, seven
rebounds and three steals. Graham (10 points with two threes), Chase Collignon (10 points) and Emerson Eck (nine points) also contributed.
"There's no better feeling in sports than in an electric environment. Honestly the Central-LT environment is one of the best you can have in sports," Oosterbaan said. "What's special about our team is the experience that we have. We were all kind of saying we're not even nervous to play in this game. We're excited. I remember last year we were pretty nervous. (We said) let's just leave it all out there and whatever happens, happens."
The Red Devils led 38-27 entering the fourth quarter but saw their 41-31 advantage reduced to 41-35 with 2:46 left.
They held on with a perimeter basket by Collignon and hitting 6 of 8 free throws, including pairs by Collignon and Eck after LT closed to 45-41 with 50.1 seconds left.
Senior guard Jackson Niego had 16 points with two second-half threes for the Lions (17-3, 5-2). Seniors Nik Polonowski (two threes) and Graham Smith (eight rebounds) had 10 points each.
"They're really good. We struggled to put the ball in the basket for a while," LT coach Tom Sloan said. "It just
felt like we were constantly chasing."
The Lions had just two offensive rebounds the first three quarters, but Smith delivered back-to-back
putback baskets to reduce the 41-31 deficit.
After a Polonowski three, the Red Devils made a free throw and Oosterbaan got the offensive rebound of a
miss and converted another free throw for a 44-38 advantage.
"There were some kind of key pays where a ball could have gone either way and ended up in their hands, turned into a basket or foul or good play for them," Sloan said. "They deserved to win. We get to play them again (Feb. 11) and hopefully the result goes the other
way."
The Red Devils led for good after LT went scoreless for about six minutes in the first half, turning an 8-7 deficit into a 15-8 advantage by the end of the first quarter.
Nine points came from Oosterbaan.
Eck's three put the Red Devils ahead 23-13 but LT used Connor Carroll's basket and a Polonowski three to close to 23-18 at the half.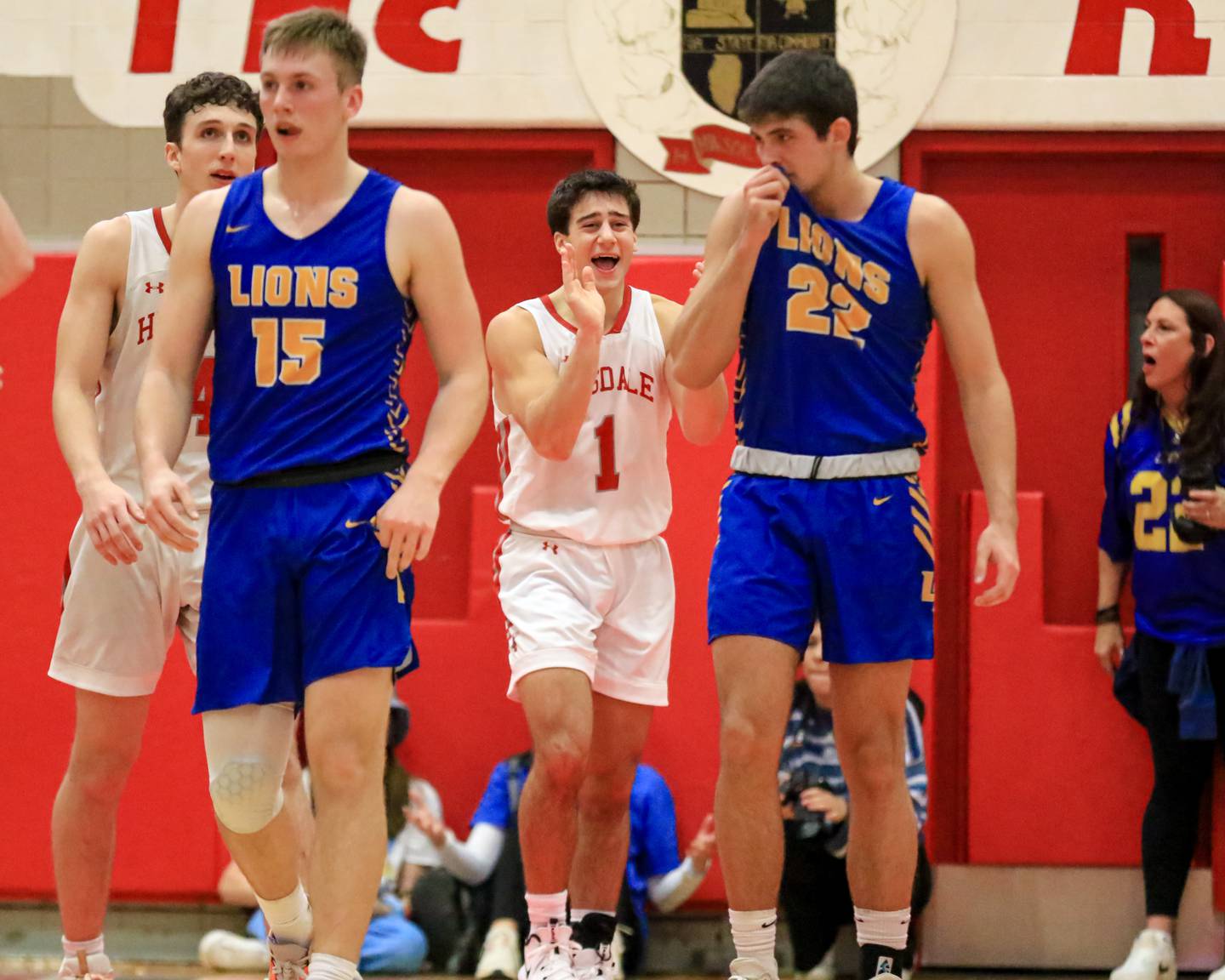 Hinsdale Central got a Collignon basket and Graham in the first 30 seconds of the third quarter to go ahead 28-18. When LT threatened again, Hinsdale Central ended the quarter with a 6-0 run.
Graham had seven third-quarter points and finished 4-for-4 shooting.
"We've been playing together for so long. The seven of us have been playing together since third grade," Oosterbaan said. "We have so much trust in one another's abilities. We'll give up a good shot to get a great shot. It doesn't really matter who's shooting as long as it's a good shot."
One of the Red Devils' youth baseball teammates, senior baseball catcher Charlie Bergin, banked a half-court shot at halftime to win $10,000.
"As little kids, (Bergin) would make them all of the time," Oosterbaan said.
"(Hinsdale Central coach Nick Latorre) was giving us a speech and we heard the crowd erupt," Graham said. We were all locked in, but I think we all knew in the back of our minds someone just made it."