Chicago's only all-Asian volleyball team are hoping to make some noise at the Chinese nine-man national tournament this weekend
CHINATOWN – Nineteen year old Jairon Hsieh jumped 40 inches and smashed a volleyball over the hyperextended fingertips of not one, not two, but six blockers at the front of the net.
Heat radiated from the concrete in Armor Square Park near Chinatown, Chicago's only court designed for Chinese nine-man volleyball. It is a sport that was founded by working-class Chinese Americans on the east coast in the 1930s and is known for its rough style of play and lack of freedom of movement.
Nine instead of six players step on each side of the net. Players call it "organized chaos".
Chicago United – a team made up entirely of young Asian-American men from the Chicagoland area – have prepared for the North American Chinese Invitational Volleyball Tournament in Oakland, California this weekend. The annual national competition draws more than 60 teams from across the United States to the streets of Oakland's Chinatown.
Traditionally, all participants must be of Asian descent. The competition is in its 76th year, older than the NBA.
Credit: Mack Liederman / Block Club ChicagoTony Chan is an entrepreneur in the world of tech startups and nine-man volleyball. He organizes, trains and plays for Chicago United.
Chicago United is the only team of its kind in the Midwest. Team organizer, coach and player Tony Chan said that playing the sport is an obligation to preserve Sino-American culture and build a sense of belonging.
"You try to find people who look like you, who have the same experiences as you, who like the same things as you, and you can identify with that," Chan said. "This is how we see our club. It's a way for other Asian Americans to network, play volleyball, and just build fraternity. "
At just 35, Chan, a tech entrepreneur, is the team's oldest player (the players call him "Dad"). He grew up in Chinatown and trained most of his teammates today as high school students in traditional neighborhood volleyball clinics.
In 2014, Chan and a group of local players got wind of 9-man pickup games that were being held in Armor Square Park on Sundays.
Alex Yeung was one of the former high school and college volleyball players who hoped to give the older men who played 9 men a chance. The long-time nine-man players who occupied the space in Armor Square were immigrants and workers, endowed with sharp elbows and a good grasp of the nuances of the intricate game of streetball.
"We played on concrete, jerseys off. The old boys smoke and drink beer between games, "said Yeung. "It was close."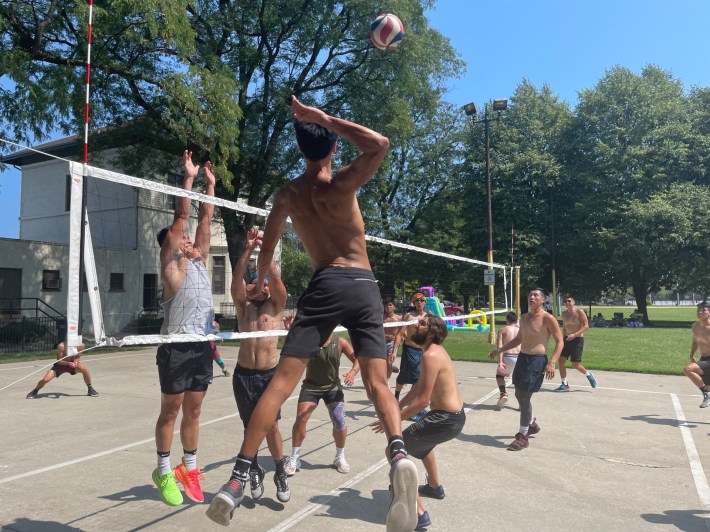 Chan was addicted. Chicago once hosted its own competitive 9-man roster in 1966, but the team never passed.
While other cities with large Asian populations like New York and Vancouver have long had double-digit 9-man teams, Chan tried to restart Chicago's first. He knew where to find the best Asian volleyball players in town, and Chicago United joined the 9-man circuit in 2018.
The team is bringing 32 players to this year's national championships – each paying their own way and crowding into hotel rooms with four or five players each. Yeung says the up-and-coming team, which is significantly less experienced than the competition, has moved from "average" to "above average" and only just qualified in the top 16 "Gold Bracket" at last year's national championships.
Two Chicago United teams will compete in Oakland: a younger team of college kids and players in their twenties and an older team of players in their late 20s and 30s.
Chan hopes to be able to expand Chicago United so that there is no further generation gap in the unique cultural tradition. The Armor Square Park practices bring young Asian-American Americans to Chinatown, and after that, Chan manages to get a table for more than 30 hungry guys who want to support a local business.
"The most important thing is to be able to stick together," said Chan. "It is important that the youth in Chinatown are involved. Chinatown will not exist without the next generation. There has to be a handover. "
A sport built by immigrants
Nine men started almost out of necessity, according to Chan and Dr. Bobby Guen, President of the North American Chinese Invitational Volleyball Tournament. The Chinese Exclusion Act of 1882 stayed in place through 1943, isolating Chinese Americans in low-income neighborhoods and embedding racism that discouraged participation in mainstream American sports.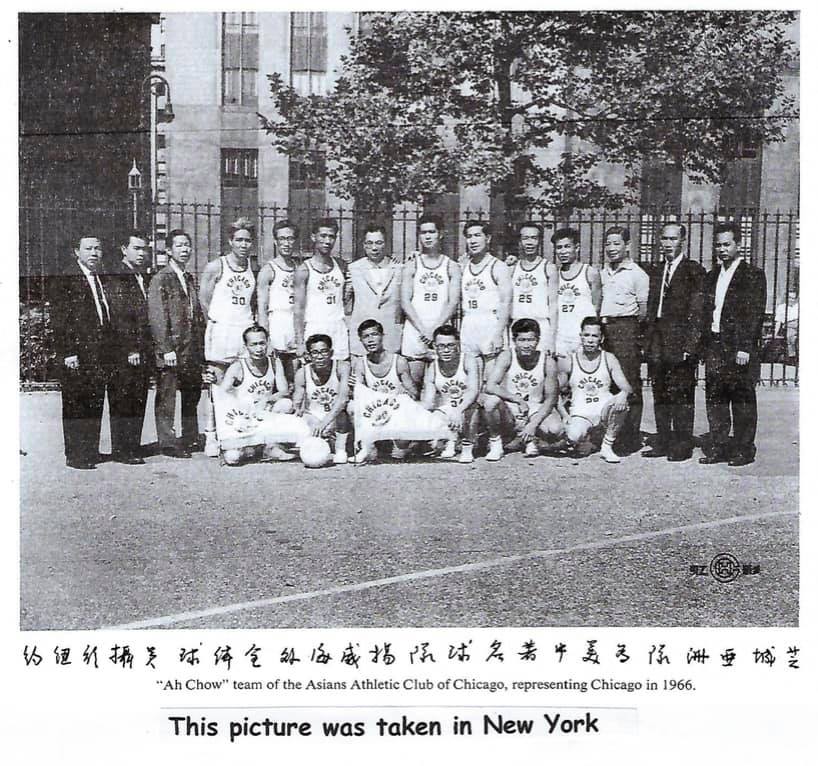 Guen said 9 men brought together Chinese American immigrants, who mainly worked in restaurants and laundries, for their own high profile sports competitions and played in the streets of their own neighborhoods. The workers rolled up their sleeves, dusted themselves off, and prepared for their grueling shifts after a few games.
"The lowly waiter became a star," said Guen. "I used to hit poles, dive, and shards of glass fell on my knees. They were decorations. "
The sport is rough and physical in its essence, played on irreconcilable concrete. The tradition of all-Asian teams – at least two-thirds Chinese, one-third other East Asian participants – has been preserved to create a sense of ownership through the ongoing effects of marginalization that Asian Americans face.
Chan said the sport continues to break down stereotypes that Asians portray as non-athletic.
"Asian Americans are overlooked as athletes. We're seen as passive, we're seen as a kind of ourselves, calm and shy, "Chan said. "But if you listen to them here, everyone is talking a lot of shit. Chinese, Asian-Americans, are some of the best speakers. "
Brotherhood has taken me under their wing
Constant chatter fills the air of Chicago United training – from ball-crushing banter to threatening growls after big games. The action moves in no time as the players fly across the court trying not to trip over each other.
The unique 9 man rules aim to encourage longer, faster rallies. Six blockers or spikers are usually in front and three "back" players hold the fort in the back. A third touch allows players to catch the ball and throw it against the net for an additional fourth hit. 9-man's signature game, a "fastball," allows a centrally positioned Spiker to hold the ball, grab his wrists, and smash it in one dark motion.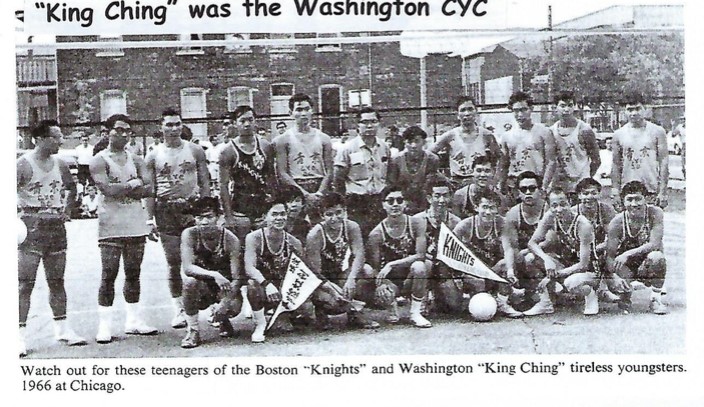 Kevin Braceros, 22, is new to the team after playing traditional college volleyball at suburban North Central College in Naperville. Learning the nuanced rules of a game that feels both familiar and strange takes time, and Braceros remembers the first time he was the victim of a "fastball" well.
"You played a fastball in the middle. It was my very first fastball that I saw play. I turn around and look and it hits me right in the face, "Braceros said. "Everyone just laughed, 'Welcome to 9-man'."
At the Nationals, Braceros will team up on the junior team with Jairon Hsieh, a Deerfield resident and sophomore at UCLA with a 40-inch vertical – "I do a lot of squats," he said.
Hsieh considered playing college volleyball, but he enjoys being with his Asian compatriots during his summer vacation from college. Nationals will be his first official tournament with the team.
"On the first day I arrived here, I hardly knew anyone. And I was pretty shy. I didn't know what was going on. I didn't know the game, "said Hsieh. "And a couple of the older boys just took me under their wing and taught me to play. I just hyped myself and made myself feel really welcome and at ease. "
Chan gathered the team around him after training and offered him words of encouragement.
As a new team in the block, Chicago United is dampening expectations and hoping to only attack the Nationals at a time. The brotherhood can only get stronger, and a few weeks ago Chan presided over Yeung's wedding. Most of the original players were in attendance.
"One percent better every day, guys," Chan said after training in the confusion. "And who is going to dim sum now?"
Subscribe to Block Club Chicago, an independent, journalist-operated newsroom under 501 (c) (3). We make every penny that reports from Chicago's neighborhoods.
Subscribe already? Click here to support Block Club with a tax-deductible donation.
Listen to It's All Good: A Block Club Chicago Podcast here: